Spa Marketing | Drive More Queries in 2020 Using Effective Social Media Optimization
Where does a weary traveler head to after a hectic day of sightseeing?
To the bar for a few pints!
Or, to the nearest spa or massage center.
If you own a spa or a massage center, this article will tell you everything you need to know for devising an exceptional spa marketing strategy that will yield results. Ideally, most spas devote a lot of time and resources (also money) on offline marketing. However, online spa marketing is the need of the hour. That doesn't mean that a spa-owner goes nuts posting on every medium.
It has to be a well-thought and strategized process. This is where social media optimization comes to the rescue.
What is Social Media Optimization?
Social Media Optimization (SMO) is often mixed up with the idea of Search Engine Optimization (SEO). Though the main focus of both processes is to drive traffic, they are very much different from each other.
SMO helps generate results from your social network. With a proper social media optimization strategy in place, you can increase your brand's visibility and engagement. Recent surveys pointed out that 43% of consumers between age 16-24 and 38% of users between age 25-34 use social media to research a product.
Social media optimization for your spa marketing will help drive referral traffic to your website, thus boosting your organic search engine ranking as well as paving a path for new leads (and paying customers). Here are 5 benefits you can get with social media for spa –
Huge amounts of referral traffic.
Reach and engage more targeted audience.
A robust online presence (and brand identity).
More leads and queries.
Better Search-Engine ranking.
Spa Marketing – Numbers that Matter
Before delving into more details on spa marketing, let's quickly have a look at numbers (so, you understand the gravity of social media for spa business).
Over the last decade, the spa industry has been growing exponentially. A recent study by the International Spa Association (ISPA), undertaken by the PricewaterhouseCoopers (PwC) International Survey Unit, showed that the spa industry has set new records in revenue, total visits, revenue per visit, etc. in 2018.
The global spa market is projected to grow at the rate of 5.7% during the forecast period 2018 to 2023 . The growing demand for health and wellness conscious among the consumers is the reason behind this booming spa market. The most targeted customers for this sector were females than male but with the changing trends and increasing wellness and health consciousness among customers is expected to drive the spa market globally.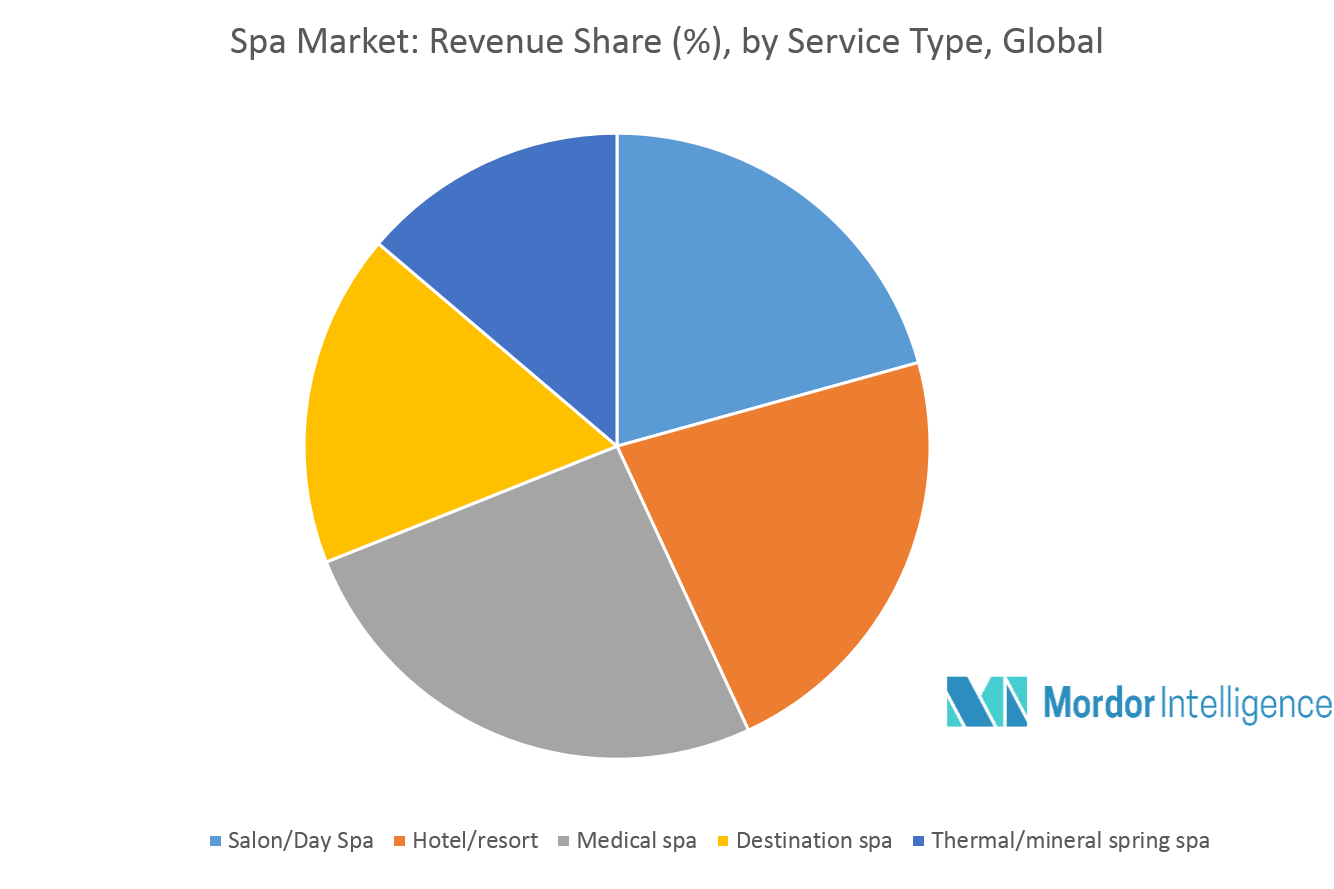 The Asia Pacific is the fastest-growing region in the spa resorts market. With rising disposable income and the rise in the tourism industry especially in developing countries such as India , Philippines, Indonesia, and China is a key factor which will be the major revenue contributor to the spa market throughout the forecast period.
Here are some numbers from the global wellness industry for you to ponder on –
The global wellness market is estimated to reach $4.75 trillion in 2019.
The health and wellness industry growth rate is 6.4% (based on 2015-2017 data) and is expected to continue at this pace.
The global corporate wellness market is estimated to reach $66 billion in 2022.
The spa market is predicted to be worth $154.6 billion by 2022.
Spa revenue in the USA was $17.5 billion in 2017, an increase of $700mn from 2016.
28% of American gym goers regularly use the spa facilities at their club.
As you can understand from these numbers, health and wellness fanatics are on the rise. And, if you want to expand your spa's clientele, it is time for you to ride the digital wave.
So, without further ado, let's tell you some of the most-effective tricks that you can use to gain better results for your spa marketing.
Spa Marketing – Social Media Optimization Game Plan
Its always strategies that matter. If you don't have one, you're probably not doing it right!
When it comes to spa marketing, the most common questions a business owner asks are –
Which platforms do I use?
How many posts should I be doing daily?
What matters most – likes or shares?
Why are people not following my page/profile?
…etc
This list goes on and on…. And, the definite answer to all of these is Social Media Optimization for your spa business. Here's a scenario-based answer to all of these (and more).
"Jessica owns a spa and massage center in the heart of Florida. She has been promoting her services using great offline marketing. But, of late, she feels that her customers aren't frequent, she hasn't received any new lead, and her sales are going down. She meets Terry (who had a similar plight a few months back), and asks for advice."
Step 1 – Deciding the Platforms
The first step is defining the platforms. You don't have to be on all platforms. All you need to do is find out where your customers are, and present your business in front of them.
Right Time + Right Place = More Leads.
Here's a snippet of the communication between Jessica and Terry –
Jessica: Someone told me I should start doing online marketing. I have a website. Isn't that enough?
Terry: Well, website is just your online storefront. It exists but your target users might not know about it. Social media, on the other hand, will help you reach out and inform these customers about your product or services. You should definitely be using it!
Jessica: But, there are so many social media options…Facebook, Twitter, LinkedIn, Instagram, etc. I don't have the time to handle so many. Nor, do I have the budget to hire a dedicated resource 🙁
Terry: But, you don't need to be on all of the social media channels. That's the best thing about optimized spa marketing. All you need to do is figure out the platforms where your potential customers, and then build a plan to cater to them. For instance, Facebook and Instagram are the two biggest platforms that you should eye for. Facebook has over 2.45 billion monthly active users, while Instagram has over 1 billion. You can use Twitter as well, but sparingly. And, in your case, LinkedIn isn't much helpful, so you can leave it. And, if you have blogs on your website, you can add Pinterest as well, if you have the time.
Jessica: Wow, that was an easy decision. Thanks!
Step 2 – The Posting Schedule
How much is too much?
How less is too less?
Every person running a business page has had these queries running through their minds. Here's the 2nd part of the conversation to help you get an answer –
Jessica: I think it will be Facebook and Instagram that I'll be using for now. But, how many times should I be posting on these platforms? And, what should I post?
Terry: Hold on, now! Let's address one thing at a time. Good thing that you chose FB and Instagram. Both offer great marketing tools and ad options that you can leverage on, but we'll talk about that later. As for posting, the best way to go is to post at least three times a day – morning, afternoon, and evening. This will ensure that you're in front of the audience throughout the day. If you can do more, well that's good for your spa marketing.
Jessica: Are their specific times that I have to stick to? Or is it flexible?
Terry: Depends on who your target audience is. There are recommended best-times to post. They work in some cases and in other cases, they don't. You'll have to figure that out! But, don't worry, here's an easy way… You already know that numbers don't lie. FB and Instagram makes it really easy to find out exactly when your audiences are online, which posts are getting more likes, shares, comments, who is interacting with your posts, and when are they doing it.
Jessica: So, you mean that I should post regularly but change the schedule up and down by a few hours for each post over a period of time. Then, check the data to figure out the best times my audience is online?
Terry: Yes, not only will you be able to figure out the best times, but you'll also be able to filter out the posts that perform well, and those that don't. And, if you want to schedule everything, FB offers it within the pages. Alternatively, you can use scheduling tools like Hootsuite and Buffer.
Step 3 – The Content
Here's a thing… everyone's busy! In this fast-paced life, it feels tempting to copy-paste a post or a link just for the sake of posting something on your page. These days, another noticeable problem is that businesses tend to post the same content on Facebook and Instagram (part of it is because you can connect Instagram and your Facebook page). It might seem as though you're killing two birds with one stone, but it does hurt your brand presence in the longer run.
Anyway, when it comes to content for social media, the safest approach is to rely on a lot of visual content than text-based. Photos, videos, gifs – these attract and engage the audience.
Here's the final segment of the conversation between Jessica and Terry, so you can figure it out on your own.
Jessica: Okay, so I have the platforms and the posting schedule… what do you think I should post?
Terry: I would say that you try different types of content… images, videos, gifs, short quotes, etc. But, make sure that you stick to the core industry. For instance, your page is about Spa….that's Health and Wellness industry…which gives you a lot of open area for content creation. But, posting something related to fishing/hunting is something that has no relation to your brand. On the contrary, you can post about body-builders/athletes and how a post-workout massage can help them relax… Getting the vibe?
Jessica: A bit, yes. But, I would appreciate more clarity.
Terry: Okay, let's do it by the platforms. Instagram is more of a visual platform. So, your posts in here will be images, videos, IG Stories, and IGTV… you can't have text-based content here. Facebook, on the other hand, is good for longer-form content like announcements, micro-blogs, and news about your brand's product/service that links to blogs, videos, tutorials, bookings, appointments, and what not! At the end of it, there's no problem with posting the same content in both platforms, but do it rarely. After all, why would someone follow you on both platforms to end up cluttered with the same posts?
Jessica: That's a solid point. I get it now. Thanks Terry!
Additional Spa Marketing Tips from the Pros (Terry)
The most important part is getting people to engage on your posts. To do that, make sure your posts add value (they aren't just you saying "Buy from me"). Create and share content that offers solutions, is relevant, and establishes trust and expertise. Start focusing more on your customers and less on you – that's the easiest way to drive engagement.
Finally, interact with your audience. It's not a one-way street… You can't just post and go hibernating! Social media is as much about listening and interacting as it is about talking.
And, no matter what you post, where you post… always make sure to add a CTA on your posts. Just make sure you're crystal-clear on what you want them to do…and make sure you've got a plan in place to get the most out of that action once they do!
Still confused? Need more clarity?
Connect with one of our Social Media Ninjas and get all the help you need.