Social Media Strategy for Hotels | 9 Guaranteed Ways To Increase Occupancy and Revenue
Getting the desired results from social media isn't an easy task. It takes time and effort. This stands true for the hotel industry as well. Social media strategy for hotels should cover all aspects of customer service and marketing for increasing the lifetime value (LTV) of every customer.
It is no surprise that every social media platform works differently. But, a well-knit social media strategy for hotels can ensure that all of your efforts work in unison to increase online booking (and your business revenue). The hotel industry, without a doubt, has an endless competition. Irrespective of everything you do, the golden rule of building a social media strategy for hotels is focusing on visuals.
Using visual branding — images, illustrations, videos, etc .— throughout your marketing helps customers identify your brand information and keep you in mind long after they have looked away. Learn about the importance of visual marketing for the hospitality industry.
The Basics of Social Media Strategy for Hotels
How does a traveler book a hotel?
Do they directly visit your website? Or do they check out aggregator sites like Expedia and Airbnb?
Do they check the hotel's influence on social media? Or, do they seek referral from friends and family?
Well, the only time buyers will visit your website directly is when they know your brand. So, how do you position your hotel as a desirable destination?
Everything boils down to one thing – creating an online presence. You need to create the right content, and place it at the right place (at the right time) using content and social media strategy for hotels.
Having a lit FB or an Instagram page helps to an extent, but you need to make your hotel a desirable destination on all channels. So, let's tell you how to get that done.
The Right Platforms
To begin with, it is best to point out that every hotel is different and that there is no one-size-fits-all social media strategy for hotels. It is important to remember that most travelers do not begin to make travel arrangements by booking a hotel. Instead, they imagine themselves in different destinations.
Destination shopping begins with dreaming. Plus, you need to understand three other micro-moments of the travel industry as a hotel. There are stages of planning and booking, when travelers make their dreams come true.
Finally, the days of anticipation leading up to the voyage. Now, while those moments do not sound like they have anything to do with the strategy of hotel social media-they do. Most travelers expect to see hospitality providers engaging with them to enhance their experience before and during their trip.
So it is important for any hotel that sees itself as a vacation destination to create content that reaches guests at every "micro-moment" of the journey.
The top 5 Social Networks that every social media strategy for hotels should include are –
Facebook
Instagram
Twitter
Pinterest
TripAdvisor
Note: TripAdvisor is a review site, not a social media platform. Hoteliers need to manage it on a regular basis by responding to customer reviews on time.
Social Media Strategy for Hotels – 9 Effective Ways
To think that slashing rates to virtually nothing will sell more hotel rooms and increase room revenue over the week can be easy, and very tempting. Although it may sell some spaces, the discounting strategy never sells enough to cover the reduced revenue.
It's important to remember that lower rates don't create demand; they can set the wrong expectations for guests and erode the integrity of your prices. Instead, think about adding value to beat the booking blues.
Here are 9 ways to boost your sales and revenue –
Target The Right People
If your occupancy rates are lower than your competition, then marketing initiatives might mean that you don't reach the right people. You need to make sure that your hotel meets the guests that are most likely to stay there. That could be business travelers, young couples with families or any other particular group types.
Understanding what matters to your target market and concentrating your marketing and promotional efforts on appealing to that market will help you maximize your occupancy.
Show-off Your Brand Personality
Almost every hotel is beautiful, has a scenic location, classy interiors….etc. Honestly, Instagram has dime-a-dozen of these photos These days, travelers aren't booking just for the sake of beauty, they need something more – a unique experience!
Note: People are used to seeing content on travel. We like it, but it's likely to be another picture or video in a minute or two, if we scroll past yours.
The answer, right? Show off the personality of your property. Travelers have a general idea of what they want from a holiday but the intricate nuances of the trip are hard to picture. Tell them what they just can't imagine. See the Instagram post from Museum Hotel, Turkey to understand better –
Showcase Events
If your city hosts cultural events, you can showcase these to rope in a few more bookings. There are people visiting these events who are your prospects.
Connect with organizers to understand how you can be a part of the event. Then create content targeting people who previously stayed there, and may not know about the events. The goal is to bring people to your hotel when they arrive at the event, and also potentially hold events in the hotel.
Sell Customized Packages
Every traveler has different needs. And, most hotels overlook these by providing standard room and board options. Think about the millennial travel. In this fast-paced world, vacations aren't a thing anymore….travelers have adapted to what they call micro-cations.
Build packages and promotions to cater to this market. Let buyers know that your hotel will help them save money without cutting on the fun. But, don't overdo it. There is no point filling in all rooms at extremely low rates.
Use Local Real Estate Agents
Are there many people coming to your town to buy, rent, and sell properties? While they check out the houses, they need a place to stay. Why not promote your hotel to these customers?
Develop relations with the local real estate agents so they can refer prospects to lodge at your hotel. Run affiliate offers and campaigns with the agents to increase occupancy rate (and build a strong foundation for repeat customers).
Don't Underestimate Pinterest
Pinterest isn't just about sharing great images. It is a social media platform for bookmarking ideas and enjoys a huge amount of targeted traffic. Whether it's a travel gear arrangement instructions, a recipe, or a DIY, make sure you include valuable content that's easy for pinners to revisit and use later.
Users who click on the pins will be routed to the destination page. You can connect the pins to your landing pages, booking forms, messenger, or any other platform. One hotel brand that has been using Pinterest exceptionally well is the Four Seasons Hotels and Resorts. On their main account, Four Seasons has 60+ boards ranging in topics from travel destinations and food to bridal inspiration and their "famously comfortable" beds.
Help Travelers
You do three things by posting local guides, either in the context of what's going on this weekend or in a more evergreen way. First, you're helping your guests figure out how to spend their time.
Second, you're enticing people to book a room to visit your city or town. And third, you involve yourself with the community and become a go-to source for information on what's happening in the area. See how Vagabond Hotel Miami is letting visitors know what's hot.
Social Media Strategy for Hotels | The Google My Business Profile & Influencer Marketing
Google My Business Profile
Listing your Google My Business profile(s) should be on the top of your list of to-do's for an effective social media strategy for hotels.
Claiming your profile allows you to appear on Google's search results in your own Knowledge Panel. That's prime online real estate. Knowledge panels contain snippets of business information including links to all of your social media profiles. This makes it much easier for a potential buyer to know more about your brand.
Influencer Marketing
Brands like Marriott and Hilton are crushing the competition using influencer marketing. With its roots in the traditional "word of mouth" form, influencer marketing has become a lucrative digital marketing strategy for increasing awareness of the hotel brand, customer loyalty and direct bookings.
This is because digital word of mouth is disseminated considerably faster than its precursor and has the potential to reach a much larger public. More importantly, however, among today's consumers social media influencers have seen an exponential increase in authority, credibility and trust.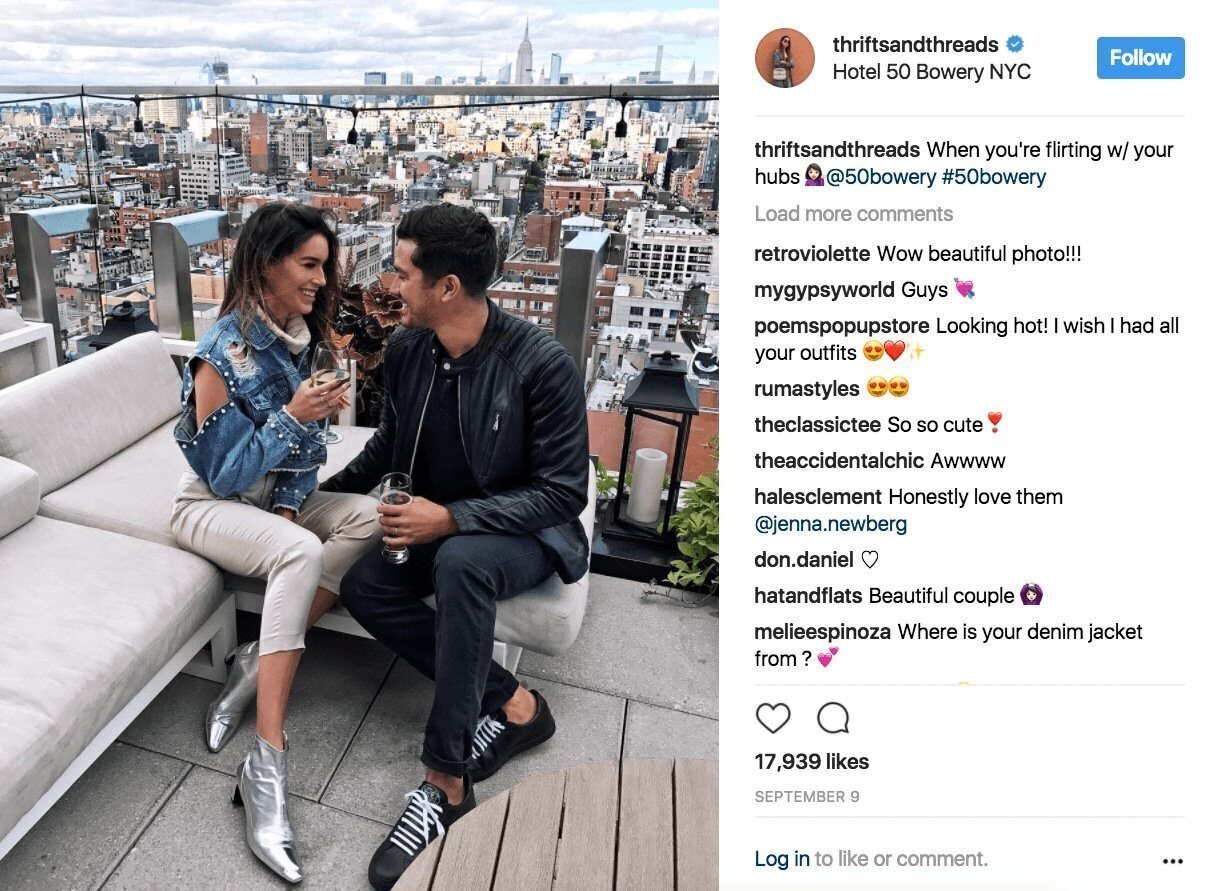 Summary
Rather than posting haphazardly on every damn platform, you should create a social media strategy for hotels that caters to all types of buyers. It is more about consistency and well-positioned content, rather than a series of random photos.
Unless you're a big brand like Hyatt, Hilton, etc., dominating Google Ads isn't easy. Instead focus on creating content that the big players are missing. Focus on building a unique brand personality so more buyers can relate to it.
Finally, invest time and effort in building a social media strategy for your hotel, because this will help you increase bookings and generate revenue. And, if you need professional assistance, you know where to find us.