Social Media Optimization for Hotels | 3 Ways to Increase ROI
Social media optimization for hotels can help owners save money while driving increased return on investment. If you optimize the social handles, you will also get better visibility on search engines and more organic traffic.
Social media is the best way to quickly increase your brand's visibility without spending heaps of money. Did you know that 78% of companies have a dedicated social media team? But only 26% of companies approach social media holistically, operating against a cross-enterprise level strategy?
If you are new to this, we recommend that you acquaint yourselves with the basics first. To get started, head over to our previous blogs on this topic –
As a hotel owner, you need to understand that social media optimization isn't about huge campaigns, it is about changing the mindset. Therefore, social media optimization for hotels (SMO) is much more than leveraging on social media for business growth. It is a process to leverage on ideas and information gathered from the community. It is about converting shared intelligence into tangible assets.
In this blog, we will be discussing the ways you can increase ROI of your hotel's online marketing by implementing a well-thought social media optimization for hotels.
Social Media Optimization for Hotels – The Basics
Optimization is one of the most influential ways to improve the financial success of a property, but unfortunately, too many hoteliers use ineffective tactics and deny the ROI they could earn from their marketing outreach. Through incorporating the following guidelines and a framework for effective social media optimization for hotels, you will improve the ROI received from marketing activities significantly, thus reducing the time and effort required to execute them.
A modern client spends a considerable amount of time using social media, so they often find information on social websites about companies, brands, products and services. Businesses that don't engage social media users miss out on an exceptional opportunity to earn significant ROI on minimal time and financial investments.
Social media marketing does not have a common solution, which is why organizations need to tackle each network with a personalized plan. Some networks are better at communicating and promoting brands, while others are great at generating traffic and direct sales.
For the hospitality industry, three social network sites work particularly well: Facebook, Twitter and Instagram. Hence, when you think of social media optimization for hotels, you need to include these 3 platforms.
Understanding ROI
ROI stands for Return on Investment.
ROI is a ratio of profitability used to assess the gain or loss generated on an investment. It indicates, in other words, how much money was earned on an investment, expressed as a percentage of the purchase price / initial investment.
This formula is fairly simple and can be adapted to various types of investments, such as marketing campaigns or acquisitions of hotel assets. However, there is a downside to their flexibility; this ratio can be manipulated according to one's perception. The use of the same inputs is essential, to have a good comparison. ( *Note also that this indicator does not take into account the time value of the money.)
ROI = (investment revenue – investment cost) / (investment cost)
The hotel sector has been able to keep up with the times and trends set by the public, adapt to their tastes and preferences and try to attract more customers by providing unique services. And, social media optimization for hotels streamlines this process further.
This being said, an easy way to keep a track of the ROI is by measuring the right metrics. These include –
Unique Page Views – to keep a record of different users who have visited your website/web page.
Time Spent Per Visit – the amount of time a user spends interacting on your website.
Bounce Rate – to see how many visitors leave your website (mostly because the content doesn't interest them).
First Click Attribution – to find out how a user who placed an order found your site.
Conversion Rates – to calculate the number of visitors who made a purchase (or performed another task).
Social media optimization for hotels has the potential to replace a portion of budget enterprises investing in advertising and public relations. With a minimum investment of one hour a day, hotel owners have at their disposal a powerful tool that can effectively engage customers and drive sales-as long as their social campaigns remain focused on ROI.
Social Media Optimization for Hotels – Best Practices
Savvy social media optimisation is important for generating ROI in an environment dominated by social media users. Social media can boost direct bookings if rightly employed by attracting the right audiences. But, a well-developed presence in social media is also critical as the rise of artificial intelligence (AI) on smart devices will rely too much on data collected from social media networks as it relies on original hotel sites, meta-search, structured data, and so on.
To stand out from the sea of posts and promotions, here are some tried-and-tested ways to create an effective strategy on social media optimization for hotels-
Aim to Inspire
Customers who interact on social media with companies spend between 20-40 per cent more money on these companies than other customers. Such consumers didn't spend much because they were bombarded by sales-oriented messages, but were willing to do so because the company was interacting with them.
When planning a leisure trip, think about the path-to-purchase of a traveler. He / she may eventually end up making the actual booking on an OTA, meta-search or online review community like TripAdvisor, but may use a social platform as an initial point of research.
The purchase decision inspiration phase is the first opportunity to sell to the customer, albeit in an unobtrusive manner that balances marketing and engagement. However, inspiring your client through social means does not end at this initial phase.
As customers move closer to booking, your efforts in social media optimization for hotels should educate guests on how to make the most of their stay, and, in turn, influence them on spending more. You will give travelers a reason to stay engaged with you by offering valuable information about your destination and will help drive loyalty.
Understand Your Hotel's Unique Value Proposition (UVP)
Consider which elements of your property (i.e. location, amenities, price, etc.) would be most desirable for your target audience when determining the UVP of your property and use that as the basis for your message.
Messaging consistency is an important part of building a successful marketing campaign in hotels. Only by repeating and strengthening key messages from your property (including your UVP) in all aspects of your marketing outreach (including marketing, sales, public relations, content marketing, etc.), can you ensure that your property stands for something in your target consumer's mind.
Drive Traffic to the Landing Pages
Direct traffic is a great area to concentrate on when developing a strategy on social media optimization for hotels. The great thing about using social media to drive traffic to your website is that your content strategy or messaging doesn't need to be changed.
If you do too much self promotion or include connections to your website in articles for the sake of it alone, you may lose contact with the public. However, you will entice them to visit your website more frequently by continuing to share relevant, interesting content with your fan base, as your brand will be top-of-mind.
In addition, social is a great way to drive visitors to unique areas of your site that may not get as much visibility as you wish. This is done effectively by hotels that often link to blog posts and other social content that lives on their websites. By taking this approach, you will maintain engagement with your audience as well as increase the traffic on the website.
Set Up Effective Tracking
The biggest challenge of marketing via social media is the dynamic and often overwhelming process of measuring ROI. Studies have shown that social media is impactful during the travel purchase path's inspiration phase but often does not lead to a direct booking. After a consumer is exposed to an offer through social media, he/she will visit your website to explore but will likely visit other sites as well before booking.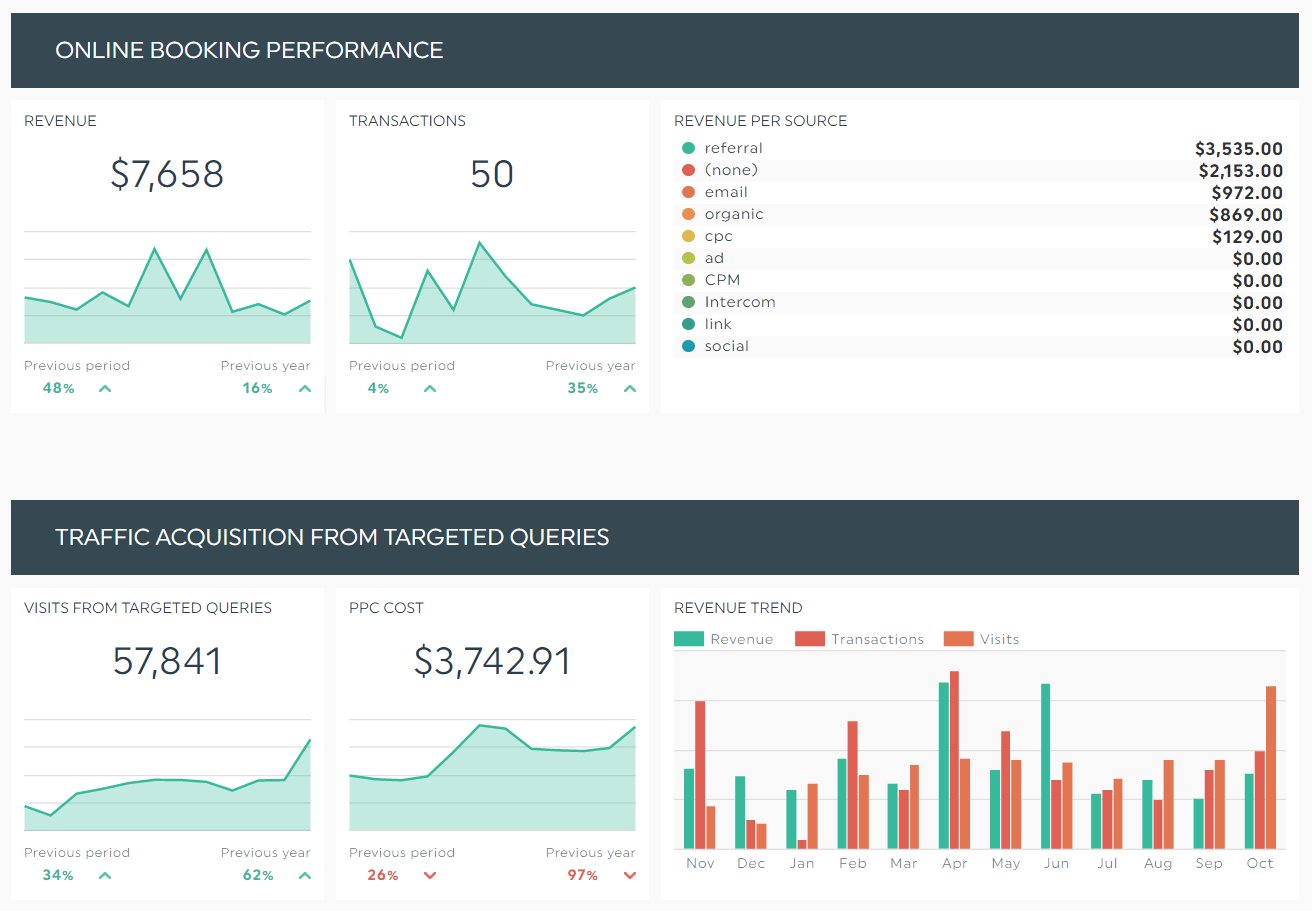 Detailed analytics can be captured by diligently setting up tracking codes that measure other important e-commerce related metrics, such as unique page views, time spent on site, bounce rate as well as first-click attribution. In this setup process your search marketing vendor will play a major role.
The Bottomline
When defining a strategy for social media optimization for hotels, you should add social URLs, email signatures, and collateral to their web site to encourage more people to find them on social media. Hoteliers can also pay for page-like advertising, set up collateral in the hotels to encourage guests to like or follow you on social media.
By following the tips above and continuing to showcase your property in a personal and authentic way, you will capture more potential bookings and will likely spend more on your current fan base.
Stuck?
Need professional advice?
Feel free to connect with us and we'll build the best social media optimization strategy for your hotel.