Hotel Website Design | Exclusive Ideas to Attract Mobile-First Users in 2020
Hotel website design has changed a lot over the years. If you don't have a mobile-responsive website, you are missing out on a huge chunk of customers. Learn how to build mobile-first websites without spending a fortune.
If you have a hotel, you must also have a website. In this age of digital growth, websites have become an essential part of every business trying to make it big. Without a website, you will be missing out on a huge chunk of potential customers.
But, we aren't going to rant about the importance of websites today. Instead, we are going to address one of the most-important aspects of hotel website design that seems to get overlooked by most owners. In this article, we will be talking about responsive hotel website design or mobile-ready hotel website design.
There is no limit to creativity when it comes to hotel website design. Each brand has their own way of displaying the unique value propositions and other elements that differentiate them from the competition. However, one thing that remains constant is the user-interface.
Good website design is one of the many things that help you rank on search engines. No matter how good your SEO and social media marketing is, a cluttered website will be of no help. Think of it this way – when you're promoting your products and services online, your website is your business' identity. It is where you want your customers to visit and take action.
Before we tell you about mobile-responsive websites, it is important that you understand the importance of it. Check out how hotels can benefit from good websites in our previous blog: Website Design Guide.
Hotel Website Design – The Growth of Smartphone Users
Today, the number of smartphone users worldwide exceeds 3 billion and is forecast to increase further by several hundred million in the coming years. The countries with the highest number of smartphone users are China, India and the United States, with each country easily exceeding the 100 million user mark.
Find more statistics at
Statista
A great source for understanding mobile usage is the Digital Future in Focus report comScore Digital Future in Focus report covering 9 global markets (USA, Canada, UK, Spain, Italy, Brazil, Mexico, China and Indonesia). It clearly shows how mobile dominates in minutes spent across countries – SMART INSIGHTS.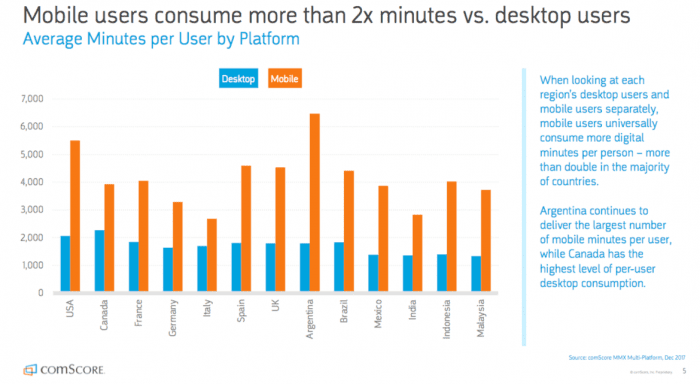 Important Stats –
Up to 70% of web traffic happens on a mobile device (CIODive, 2018)
75% of smartphone users expect to get immediate information while using their smartphone. (Google, 2019)
77% of smartphone shoppers are more likely to purchase from companies whose mobile sites or apps allow them to make purchases quickly. (Google, 2019)
Mobile searches for "best" have grown over 80% in the past two years (Google, 2017)
51% of customers say that they use mobile devices to discover new brands and products (BrightEdge, 2017)
69% of smartphone users also say that they are more likely to buy from companies with mobile sites that easily address their questions or concerns (BrightEdge, 2017)
61% of mobile searchers are more likely to contact a local business if they have a mobile-friendly site. (Junto, 2019)
53% of mobile website visits are abandoned if a mobile site takes longer than three seconds to load. For every one-second delay in site load time, conversions fall by 12% (Google, 2018)
57% of users say they won't recommend a business with a poorly designed mobile site (socPub)
67% of smartphone users are more likely to purchase from companies whose mobile sites or apps customize information to their location (Google, 2019)
Local searches lead 50% of mobile users to visit stores within one day. (Google, 2018)
Mobile devices now account for nearly 2 of every 3 minutes spent online. (Blue Corona, 2019).
Based on the numbers above, you can already understand how important mobile is. And, if you wish to stay relevant, it is important that you start addressing this in your hotel website design.
Boston Consulting Group ran a survey wherein they asked if users are okay to give up something instead of their smartphones, and the responses are bewildering. Have a look on what users have to say –
Add in the fact that sharing economy services, such as Airbnb, TripAdvisor, and Trivago, are very common (and smartphone-friendly), and the trend is clear: any hotel that doesn't have a decent mobile website will be missing a lot of potential guests, as those travelers that book through a mobile device would simply look for a hotel that can deliver this kind of experience.
Hotel Website Design | Key Things to Consider
However, given that hotel website design itself can be a costly proposition, the idea of having to develop a mobile website as well can be intimidating, because the requirements of a good mobile-first website are different from the requirements of a website built for viewing on a desktop computer screen.
Here are 3 key things to address ASAP if you want a mobile-responsive hotel website design –
Easy Accessibility
A good mobile website should make contacting the business from within the website easy for the customer. A phone button is essential as it allows a customer to contact the hotel for further information if they can not (instantly) find what they are looking for via the website. Integration of maps is also a good idea, as it helps the customer research the location of the hotel and how long it takes to get there.
For most hoteliers, the need for a flexible website that takes the' key' website content and re-purpose it to be viewed on mobile devices in a sleek interface helps boost traveler bookings that are looking for a place to stay at the last minute.
Take a closer look at the image, and you can see the website is responsive to different screen sizes (we tried Galaxy S5 for instance). The Menu is on the top-right and most of the important CTA are easy to navigate, thus giving the user more options to engage with it.
Responsive Navigation
A mobile website also needs to focus strongly on a specifically designed mobile user interface (or UI). How many times have you tried to click a link on your mobile phone, only to press the wrong one accidentally, and be taken to a completely different page? In spite of the small screen real estate, a good mobile website efficiently spaces links, text, buttons and images to make it easy for the customer to navigate around the web.
Check out our detailed guide on UI Trends for Hotel Website Design in 2020 for more information on navigation elements.
Clean & Efficient Content Presentation
Unlike standard website design, your visitors probably won't have much time to read large amounts of text. A good mobile hotel website design should quickly cut to the chase, providing the customer with the key information they need to know immediately–providing them with easy, instant access to important website functions (such as your internet booking engine) immediately after the page is loaded. Create a website that merges only the things your guests need to make an online booking decision, and remove all the noise that turns them away.
Need Inspiration? Check out these 3 mesmerizing hotel website design ideas.
Hotel Website Design | Things That Annoy Visitors
It doesn't matter if you have a classy hotel website design, unless it is mobile-responsive. A static website runs into many problems when accessed on different devices or browsers. And, these tiny problems (which get overlooked) irks your prospects.
Getting a responsive design and a redesign of your website doesn't cost the earth. Costs depend, of course, on the nature of the job and the business ' criteria or goals.
Listed below are a few things that you should address at the beginning –
All small or hard-to-read texts that force users to zoom in and out consistently.
Large images that take time to load.
Small links that are difficult to click (or, do not open in a new window).
Tap targets and other buttons which do not fit across devices.
Missing contact options (live chat, email, click to call, etc.).
Web pages that don't fit to the screen.
Limit the use of pop-ups and any add-ons that use Adobe Flash.
Integrated Google Maps (use the responsive embed code).
Auto-fill forms for returning/existing customers.
Consistent Name, Address, Phone and a logo that redirects to Homepage when clicked.
You need to understand that mobile users are goal-oriented. They need a responsive website to get things done quickly and without any confusion. Hence, as a seller, you have to live up to the expectations or get sidelined.
Summary
If you don't have the time, expertise or money to do so, learning where to get going with building a mobile-responsive hotel website design can be hard work. A responsive site's beauty is that it is optimized to any device size. So even if Samsung or Apple decides to introduce a new tablet or alter the size of their mobile devices, responsive hotel website designs will still render the best possible.
A mobile-responsive hotel website design is a form of future-proofing for your business. It gives the peace of mind that your site design will remain optimized across all devices, adapting seamlessly as technology firms continue to bring new products to the market.
Here at Yasza Media, we create websites that attract users like bees to honey. All you need to do is share your vision with our team, and we will start crafting a hotel website design of your dreams in no time. So, what's stopping you from getting more bookings? Contact us now.