Google Ads for Hotels | Attract Huge Traffic Easily [2020 Update]
Google Ads for Hotels is the most-effective way to broadcast your brand in front of interested buyers. Every day, millions of users around the globe search for hotels on Google (and partner networks).
Imagine the possibility?
There is a ready-made potential market for you to tap. But, are you doing it right?
Other than Google Adwords, you also have the Google Hotels Ads – a meta-search platform, originally called Google Hotel Finder, launched in 2011.
Most hoteliers think (and, they're partially correct) that prospects begin planning their stay on aggregator sites like Expedia, TripAdvisor, or Booking.com. But wait! Have you ever thought that most people start their initial search for everything on Google?
No website/search engine is even close to Google in terms of search. On an average, Google gets more than 3.5 billion search requests daily. So, what's stopping you to use this goldmine?
Ideas? Strategy? Guide? – we got you! Let's help you connect to more buyers and get you ahead of the competition.
What are Google Ads for Hotels?
The Google Hotel Ads platform enables you to showcase your hotel on the Google search and display network, across desktops, tablets, and mobile devices. One of the best things about this platform is that it displays your hotel's rates in direct comparison to the OTAs.
All you need to do is provide Google with updated details on your hotel's pricing, room types, and room availability. Based on these, Google will show relevant ads to prospects who are actively searching for accommodation on Google Search or Google Maps.
For instance, if a user does a generic search for 'hotel in Bali', they will see a search result page as shows below. It will include paid and organic search results.
The top results are Paid Ads, while the center shows organic search results. Users have an option to change filters and other relevant details. Once an interested user starts changing the filters, they will be shown the results on a new page (Google Maps). Refer to the image below –
When the user clicks on View Prices , they will be redirected to a new page, also known as Hotel Details Card. This page provides the buyer with everything they need to know before booking rooms. Overview, Prices, Reviews, Location, About, Photos – all of these are segregated into different tabs.
Google is expected to gradually shift traffic to Hotel Ads, likely at the cost of AdWords and organic browsing, and with nearly two-thirds of Google travel searches, hotel marketers will ignore this phenomenon at their own risk.
Google Hotel Ads | Getting Your Hotel on Google
Listing your hotel on Google Ads is simple and takes just 3 steps.
Create a Google Hotel Center account to manage and share your hotel's rates.
Link your Hotel Center account to a Google Ads account.
Create and run your first Google Ads for hotels.
If you don't already have a Google Adwords account, or are considerably new to this, we recommend reading our previous blog – Google Ads: 3 Steps to a Successful Campaign.
Step 1 – Setting Up a Feed
You can either set-up the feed on your own or use 3rd-party apps like WuBook, Wix Hotels, Noetic, Booking One, Simplotel, Wikhotel, etc.
PS* Google has recently updated the Hotel Center to help you better optimize and manage your data feeds for. They have brought in a lot of new features, including –
The option to view your recently added hotels and fix data discrepancy with manual match,
Viewing conditional rates and their history, and testing them in Ad Preview,
Price Accuracy samples per hotel and account
Improved price feed status and coverage
Linking and sharing with Google Ads accounts at the hotel level, and
Improving your matched opportunities with dedicated feed metrics.
To set-up an XML-based feed, your hotel must have the below –
Rooms in which paying guests can stay
A physical presence and fixed location that is open to the public
A staffed front desk open during normal business hours
A minimum stay requirement of no greater than 7 days
Google attempts to match properties in your hotel list to businesses on Google Maps. If your property has missing or incorrect information, it may not be matched.
You can create a CSV file or an XML file. However, Google recommends that you use a CSV syntax for integrations. Once you create a hotel list, follow these steps to upload the feed –
Sign it to your Hotel Center Account
From the Menu, select Properties
Click on Settings > select the file type > Upload (takes an hour or more)
Receive confirmation when list is ready to publish
Publish the list (takes 2 days to publish)
Step 2- Linking Your Accounts
Hotel Center Ads and Google Ads work in unison to create and manage your google ads for hotels. To link both these accounts, you will need administrative access to the Ads account and Hotel Center account. If you have it, just follow the steps listed below –
Sign in to the Hotel Center Account > Select Account Settings
Under Basic Settings, click the "+" icon next to Google Ads Link
Enter your Google Adwords customer ID
Select the desired properties and click on Save.
Next, sign in to the Google Ads account > Click on the Tools icon
Under Setup, click Linked Accounts > Google Hotel Center > Details > Action > View Request > Approve
Step 3 – Running your first Google Ads for Hotels
Now, you are ready to create your first Google ads for hotels. Add a campaign budget, set your budget, and start the ad. You will be receiving every report that you need to measure and analyze your campaign.
If you are interested in learning about keyword research, bid values, and other details, read our detailed guide on Google Ads Keyword Planner.
What Makes Up Google Ads for Hotels?
Hotel campaigns allow you to set bids and compete for the booking links shown on Google Search, Maps and Assistant alongside the hotel search results (see example).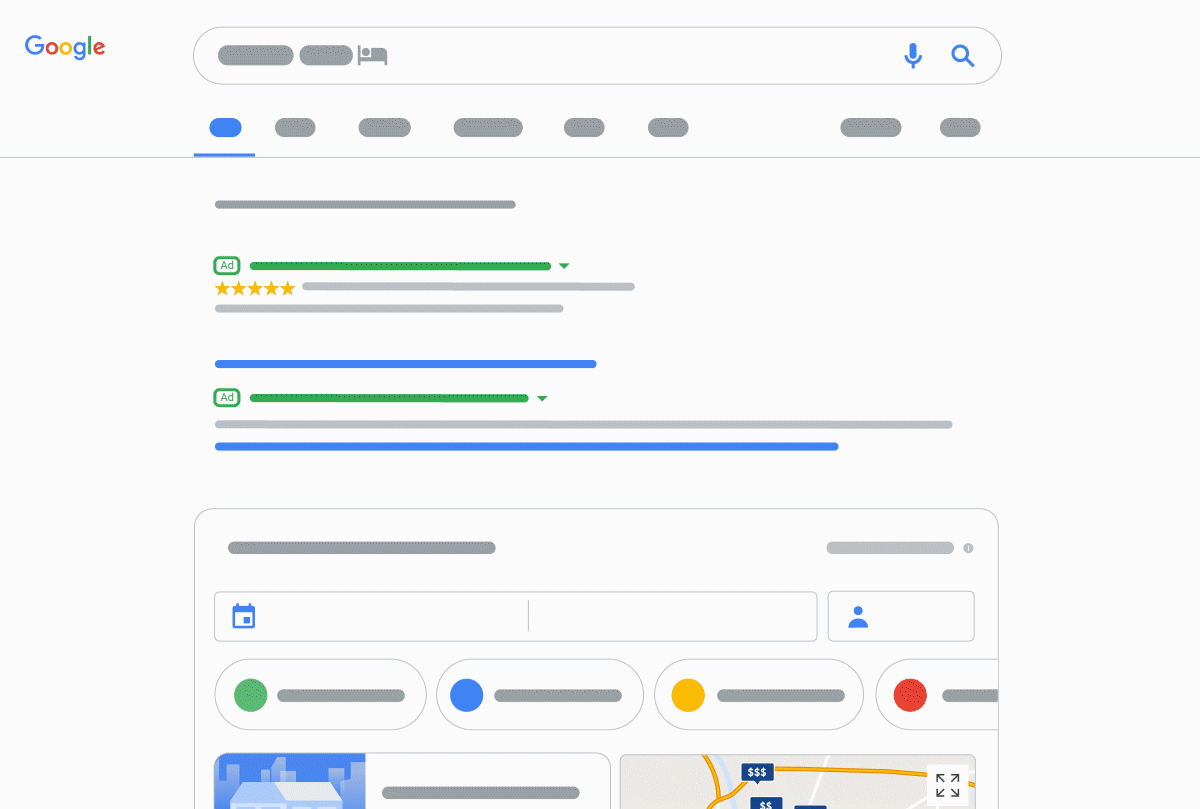 You must provide room prices and availability via a price feed (or work with an integration partner who provides the prices on your behalf) to participate in the Hotel campaigns.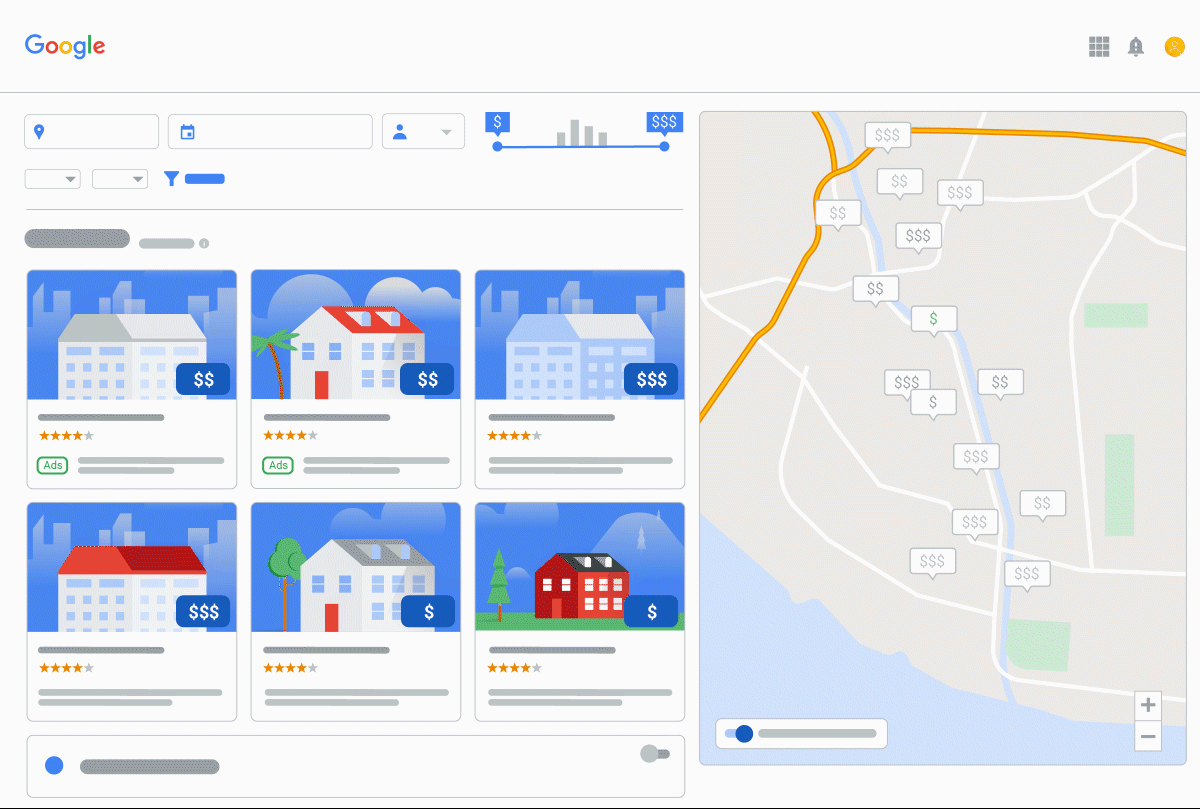 Google Ads for Hotels – Campaign, Bid, and Account Limits
If you are ready to try out Google ads for hotels, here are some limits that you should be aware of. These limits apply to every ad campaign.
Account Limits
200 Google Ads accounts linked per Hotel Center account
1,000 Hotel campaigns per Google Ads account
3,000 ad groups per Hotel campaign
20,000 Hotel group level bids per ad group
5 million Hotel group level bids in a single Google Ads account
Bid Limits (Per Hotel)
Hotel ads will support up to 100 bids per hotel throughout all Google Ads accounts linked to a single account of the Hotel Center. This is a particular limit to the Hotel initiative, and does not extend to other Google Ads items.
Note* If your bids surpass the per-hotel cap, Google can not guarantee that when deciding the winning campaign or ad category in the auction, we will be reviewing bids above the limit. Because there will be no message of error warning of over-limit bids, it is best to remain within the limit.
Benefits of Google Ads for Hotels
There are quite a few benefits when it comes to running Google Ads for hotels. Some of them are –
Attract travelers who are actively looking for a hotel in a particular area. Hotel ads contain your company's name, hotel name, price, and text callouts to highlight the unique benefits of booking through your site.
Tailor a hotel's prices by a hotel's availability and traveler itineraries.
Send customers to a website to book, or allow them to book on Google.
Pay for an ad only when someone books a hotel. Or fine-tune your bidding by factors such as device type, the traveler's country, or length of stay.
Your ads will appear globally, and can be displayed in every major language and currency.
With Hotel campaigns, you set specific budgets and can reach travelers based on their country of residence and device they're using. Within a campaign, ad groups let you set specific bid adjustments based on the traveler's itinerary. Within an ad group, hotel groups let you set base bids for hotels based on their attributes.
Final Thoughts
If you're not using Google Ads for hotels, you are missing out on a large number of potential customers (not to mention the awesome reports from Google). You will get the flexibility to define your bids as you want, thus generating greater returns on investment.
Connecting the feed and preliminary setup can be confusing (and exhausting), but that shouldn't hold you back. Feel free to connect with our Google Ads experts and we'll help you through.